As you may have read a few times if you follow me on social media, Bennett is 4 months old 🙂 .  I think Bennett's transition from 3 to 4 months has produced some of his most amazing developmental changes yet…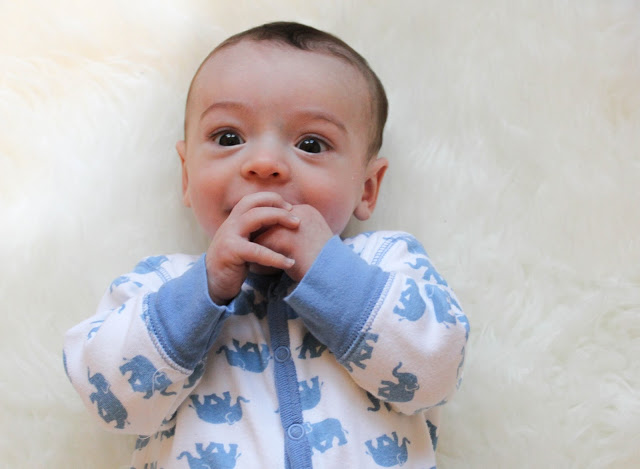 Bennett's most monumental accomplishment is that he has started rolling over.  As soon as he discovered this skill, he began rolling all over the apartment like a little baby tumbleweed.  And might I say he is really, really fast.  I'm assuming he got it from Brian since my nickname was Poky growing up.  I am constantly running to rescue him before the little roly poly flops right onto the hardwoods.
On another happy note, he has been sleeping much better lately.  When he first started rolling he would turn over in the crib and get really upset when he realized he was stuck on his tummy (this happened every 1-2 hours overnight for about a week so I was a complete walking zombie).  I guess he decided being on his belly wasn't so bad because that's now how I find him when I wake up. He is currently only waking up at around 4:30 AM wanting to eat. After I feed him he'll immediately go back to sleep until 7 or 8 AM.  (I'll take it).
Another milestone is that we got the green light from our pediatrician to start giving Bennett solids! Bennett has had difficulty gaining weight since day one (he's been constantly riding the 2nd percentile).  I pretty much have had him latched onto me or have been attached to a breast pump all day every day.  When we got the go-ahead, we started with baby oatmeal.  It took a few attempts, but he has finally started getting the hang of swallowing it and LOVES IT!  It amazes me that he likes to grab his spoon and try to feed himself. It is almost as adorable as when he tries to hold his own bottle.
We also introduced avocados this week but after 3 attempts and being pelted with green mush, we came to the conclusion that he is just not into the baby guac.
With Bennett's development, we have recently found ourselves breaking out baby shower gifts for the first time or scrambling for a key baby item we overlooked.  A few of these products have turned out to be life savers.
You can view or shop these items by clicking on each link..
The OXO Divided Feeding Dish keeps Bennett's solids separated and comes with a lid making it easy to throw in the diaper bag without having to worry about leaks; it also has an attachable rim that you can use to take excess food off the spoon.
The softness of the OXO On-The-Go Spoon is great for babies just learning how to use…well…use a spoon.  It also comes with a travel case, which is super convenient, and allows me to scrape excess food off his face.
Bennett LOVES to stand up; I constantly have to remind him that he's a little baby, but I swear this kid is ready to start running.   The EvenFlo ExerSaucer Jump and Learn Jumper was gifted to Bennett for Christmas, and he is OBSESSED with it.  It's interactive with a lot of colors and sounds, and it definitely keeps him busy.  It took awhile for me to give in to having this large colorful piece of plastic in my living room, but it is absolutely worth it.
The Baby Merlin's Magic Sleepsuit was recommended to me by one of my college sorority sisters and it literally gave me my life back when I was too tired to walk while Bennett was going through a sleep regression at around 3 months.  It is the perfect for transitioning a baby out of the swaddle and eased whatever was causing him to wake up at night.  This is a must-have!
Dr. Brown's Bottles are, hands-down, the best bottles out there.  Dr. Brown bottles have a vent system that creates a feeding environment similar to breastfeeding.  It allows babies to feed at their own pace.  (Bennett still likes the Level 1 nipples).  I also like that the bottles are compatible with my Medela Breast Pump tops so I can pump right into the bottle.
Bennett adores the plush animals and sounds of the Pottery Barn Kids Animal Friends Activity Gym, and I like the neutral muted colors, which blend nicely with my home decor (I know, I'm a weirdo)  🙂
The Little Giraffe Luxe Blanket is seriously the softest blanket ever.  I invested in this blanket because I wanted something high quality that Bennett will always have. He is always ready to eat first thing in the morning; so I wrap him in this blanket when he's still in his onesie and feed him.  It is my favorite bonding time.
I have loved Aveeno products for years and trust Aveeno Baby Wash on Bennett's skin.  And may I add it smells absolutely wonderful.
We use Noodle & Boo Super Soft Lotion to give Bennett a massage after every bath.  It smells absolutely incredible and leaves his skin wonderfully soft.  I was a little hesitant about the price at first, but a little goes a long way (we are still on our very first bottle 🙂  )
Side note – We joined AMAZON PRIME a little over a year ago and it has been an absolute game  changer. The convenience of ordering from my couch with Free 2-Day Shipping during a difficult pregnancy and while home with a newborn has allowed the membership fee to pay for itself.  It also gives you access to AMAZON FAMILY, which gives you a 20% off Diaper Subscription and a 15% Registry Completion Discount.  We have a subscription for diapers and wipes and have saved a good deal of money.  Plus I have peace of mind knowing I always have a drawer full of diapers.  You can find more information and try the program for FREE by clicking HERE
P.S. – Bennett is wearing Baby Steps pajamas.  I love all of the adorable designs by this line.  You can shop for them  HERE.  I also love THESE, THESE and THIS ONE for little girls.
Disclosure:  The Northern Magnolia is a participant in the Amazon Services LLC Associates Program, an affiliate advertising program designed to provide a means for sites to earn advertising fees by advertising and linking to amazon.com.  All opinions in this post are my own.