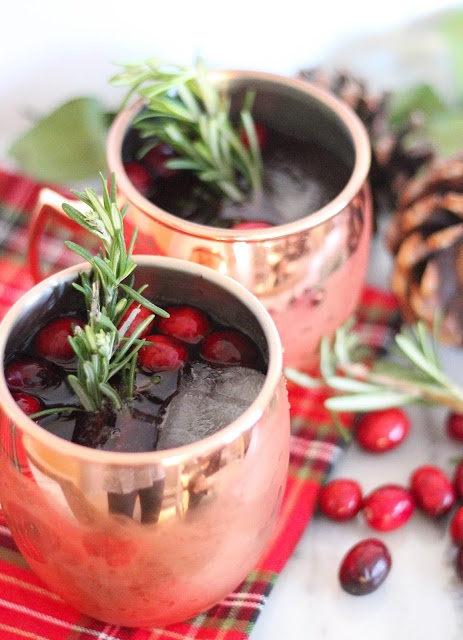 One tradition Brian and I have on Thanksgiving, whether we're entertaining or having a quiet dinner with just our family, is coming up with a signature cocktail to sip on during the day. This year we will be enjoying this delicious and festive Cranberry Mule.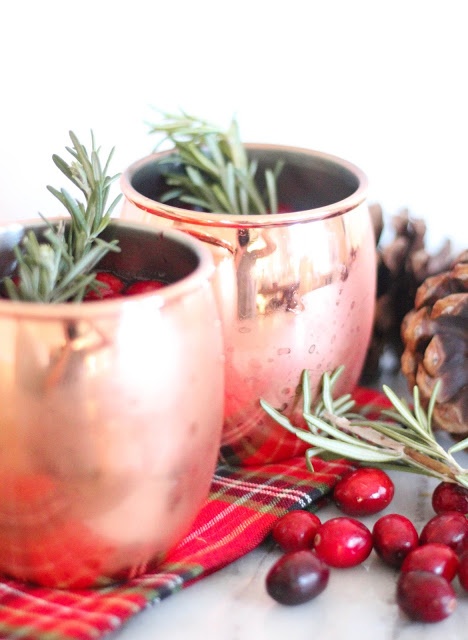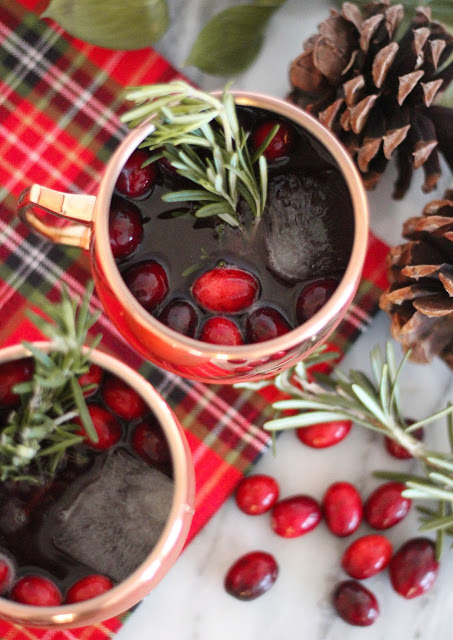 If you guys check in on my Friday cocktail posts, you might have picked up that I'm a fan of Gin Mules. Here's why:
1. They're ridiculously easy to make!
2. They are so versatile, and you can easily put your own fun, seasonal twist to the drink (see my other Mule recipes
here
and
here
).
3. It's a great meet in the middle for me and Brian. It's an effervescent cocktail on the sweet side that he actually enjoys.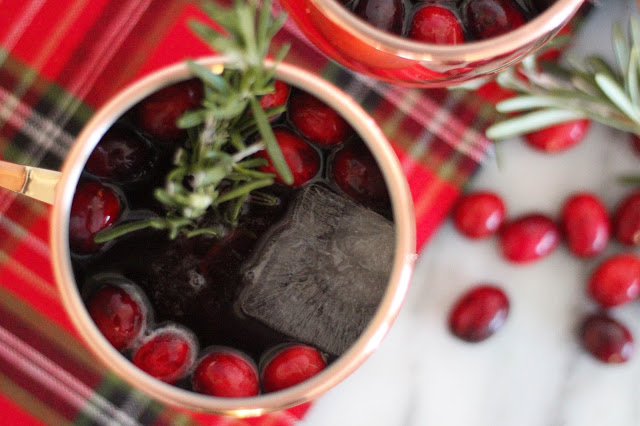 A Mule is the perfect cocktail choice for Thanksgiving (or really any Holiday party)! The ginger in itself tastes like Holiday spice. I especially love the balance of the sweet spiciness of the ginger beer with the tartness from the cranberry in this Cranberry Mule. But my favorite part of this drink has to be the fun garnishes! The fresh cranberries are little bursts of tartness, and sipping the drink with the fresh rosemary sprig smells like you're sipping this cocktail in an evergreen forest.  Gin is my liquor of choice, but of course you can substitute the more traditional vodka!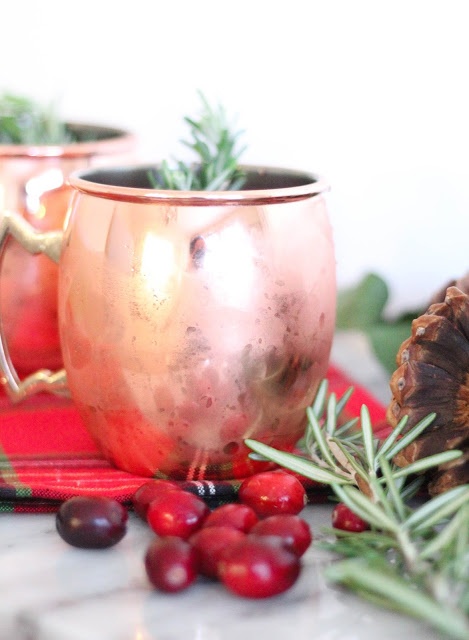 Cranberry Gin Mule  (recipe makes 1 cocktail)
Ingredients:
Rosemary Simple Syrup:
1/2 cup water
1/2 cup granulated sugar
2 sprigs of rosemary
Cocktail:
1 1/2 oz oz rosemary simple syrup
2 oz cranberry juice (I prefer actual cranberry juice and not cranberry juice cocktail since I'm already adding the simple syrup sweetener)
Ginger Beer (this is my favorite)
Whole fresh cranberries and rosemary sprigs for garnish
Instructions:
1. To make Rosemary Simple Syrup, combine sugar and water in small saucepan over medium heat stirring consistently until sugar is dissolved. Add rosemary sprigs and remove from heat. Allow to cool to room temperature. Syrup can be stored in airtight container in refrigerator up to 1 month.
2. Add gin (or vodka), rosemary simple syrup and cranberry juice to copper mug with ice (preferably crushed) and stir. Top with ginger beer and garnish with cranberries and rosemary sprig!
I hope you all have a wonderful Thanksgiving Holiday!  Cheers to the weekend!