Although Brian's tenure as a father has not been incredibly long, I have made a little tradition out of mixing him up a special Father's Day cocktail the last two years. This year I decided to put a little spin on one of his favorite drinks- the Negroni.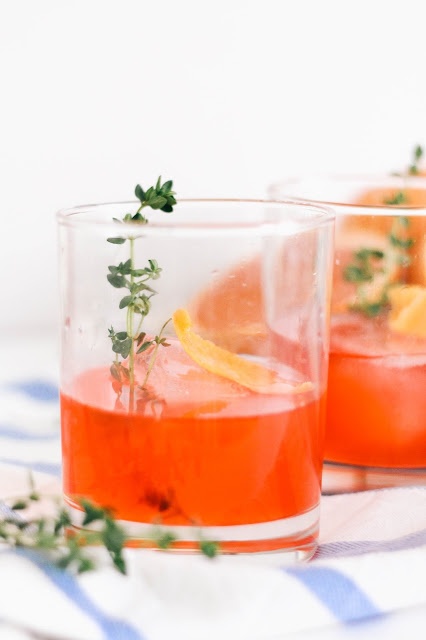 Brian was a stranger to the Negroni before gaining a quick affinity for them when we were in Rome. I've heard and read that Negronis are an acquired taste, but that was in no way the case for Brian. His mind was blown at first sip, and I don't think a day went by on our honeymoon in Italy that he didn't enjoy at least one.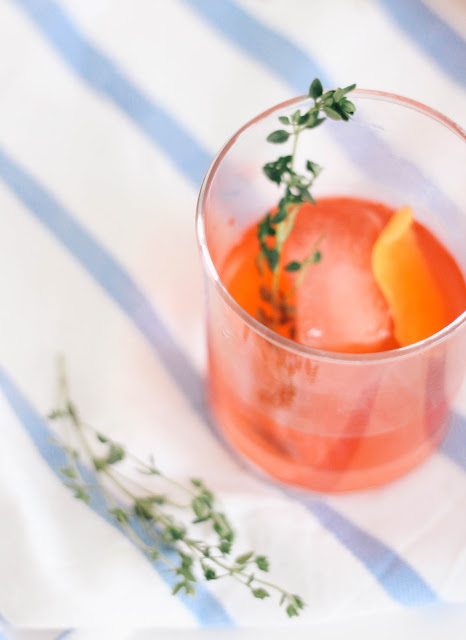 The classic Negroni is insanely simple to make as it is equal parts Campari, gin and vermouth. In this recipe I traded in the vermouth for fresh grapefruit juice and a little bit of thyme simple syrup. I experimented with this combination since I thought the grapefruit would do wonders with the Campari (and it does) and the thyme might highlight the Campari's secret herbal notes. Plus it cuts down on the alcohol content so Brian could enjoy just one more. 🙂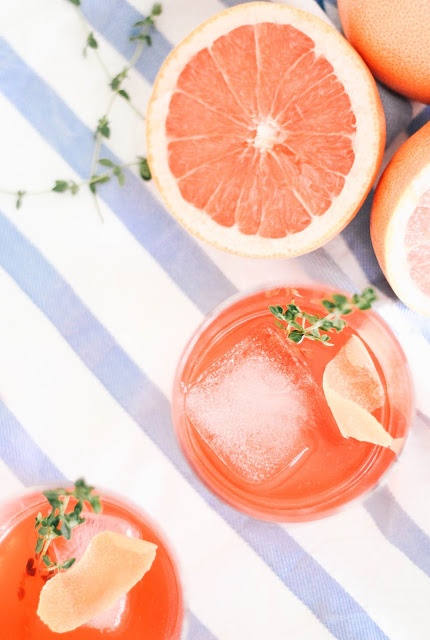 Are any of you making a special cocktail for those amazing dads in your life? I love the idea of this type of personal touch to the day and who doesn't love an aperitif before dinner!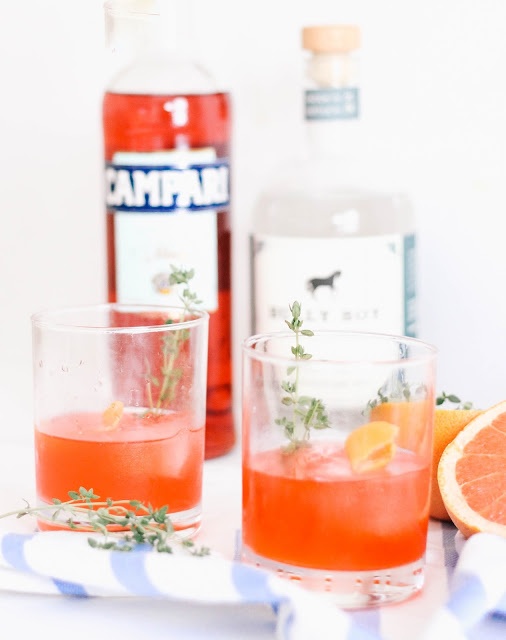 Grapefruit Thyme Negroni  (recipe makes 1 cocktail)
Ingredients-
Thyme Simple Syrup-
1/2 cup granulated sugar
1/2 cup water
Handful of fresh thyme
Cocktail-
1 oz Campari 
1 oz gin
1/2 oz fresh grapefruit juice
1/2 oz thyme simple syrup
Extra thyme and grapefruit rind for garnish.
Instructions-
1. To make Thyme Simple Syrup, stir sugar and water in small saucepan on medium heat until sugar dissolves. Turn off heat, add thyme and allow to cool to room temperature. Remove thyme and enjoy! (Simple syrup can be stored in airtight container in refrigerator up to one month)
2. Stir all ingredients in glass over ice. Garnish and enjoy!