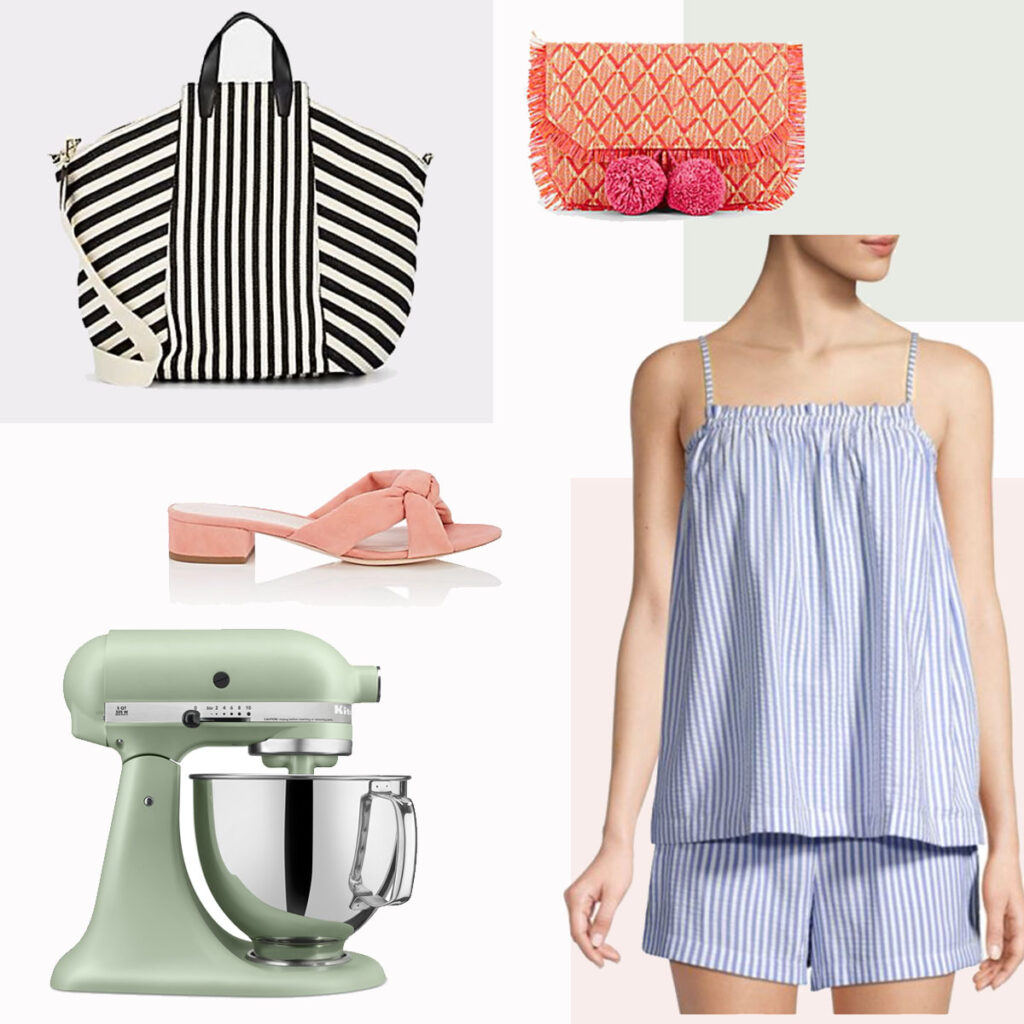 It's Mother's Day Weekend and I hope all you moms enjoy all the lavishness and relaxation I know you deserve. I will be working on Mother's Day but hoping to get a big breakfast with my family beforehand as maybe even a little mommy pampering time on Saturday. There are some pretty great sales going on this weekend that I've shared below along with some of my favorite pieces from each sale. And if you're a mom, I hope you get to browse through them while getting as spoiled as possible. 🙂
MACY'S– Take 20% Off at the Mother's Day Sale with code: MOM (valid thru 5/12). Some of my favorite Spring finds from this sale include this gorgeous floral print dress, these high-rise ankle jeans, this ruffled dress and these pretty floral sandals. There is also some really great kitchenware marked down such as this KitchenAid mixer (love the pistachio color) and this Nutri Ninja!
LOFT– Take 40% Off site wide with code: LOVEMOM (exclusions apply, valid thru 5/12). You should take a look at this blouse, these block sandals, and this breezy button down dress.
LORD & TAYLOR– Take up to 40% Off with code: MOM. This cotton pants are perfect for casual weekends and the beach (marked down to UNDER $16!) and although I haven't braved a jumpsuit yet this all navy one is the way I would go. Also, I want to pick up these culotte trousers for work and this seersucker pj short set is just darling!!
BARNEY'S WAREHOUSE– Save 40% on all women's categories (valid thru 5/13). I haven't done much shopping on this site in the past but that is going to change after seeing all the amazing designer merchandise they have at such discounted prices. This essentials make-up brush kit is marked WAY down! This pom-pom straw clutch is too perfect for Summer and only $35! I also like the idea of using this large striped tote bag as a Summer diaper bag. Don't forget to check out the swimwear (I really love this suit) and shoes (I love these blush oxfords and these pink Loeffler Randal sandals)!
Happy Shopping, and to all the moms out there, Happy Mother's Day!
In case you missed it, don't forget to check out my Spring Floral Edit!
Shop the Post